Strat 'N Go Launch – Info Session
October 19 @ 5:00 pm

-

6:00 pm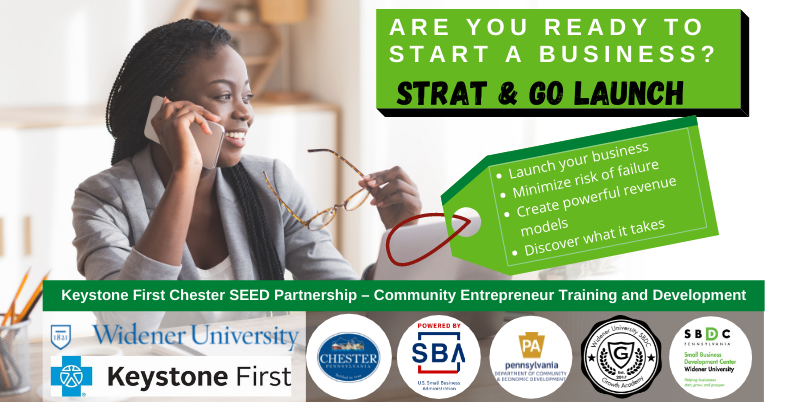 "Launching a Business is an Adventure in Problem Solving" – Richard Branson
In partnership with Keystone First's Supplier Diversity Program, we are pleased to present Strat 'N Go Launch, Self-Employment Webinar Series.
Register here and attend the information session to learn if this no-cost series is right for you.
About Strat 'N Go Launch
During the eight-week webinar series, the Widener University Small Business Development Center will cover the essentials of self employment and small business ownership. Participants will learn from expert consultants, successful business owners and business leaders. Each class consists of 1.5 hours of dynamic interactive learning. Participants will benefit from one to one consulting and receive a graduation certificate upon completion of the program.
Participants will review the tools, methods, and strategies successful entrepreneurs utilize to propel their business to the next level. To help your business reach the upper atmosphere you'll need a solid launch pad, a resilient rocket, and a capable mission control.
Get prepared to launch your businesses as over the course of the event you will:
Utilize the Business Model Canvas and Value Proposition Design concepts from certified instructors
Evaluate multiple Business Model designs to create a flexible and adaptable business
Network with entrepreneurs and business leaders
Receive customized workbooks designed to be your operating manual
Who should attend? Driven entrepreneurs looking to:
launch a business
reduce the risk of failure
map the competition
create powerful revenue models
Start Dates:
The Program will start on Tuesday October 26 and meet via zoom on 10/26; 11/2; 11/9; 11/16; 11/30; 12/7 & 12/14.
Learn More & Atend an Info Session
To learn more about this no-cost series, we invite you to participate in one of our INFORMATION SESSIONS via Zoom on:
Tuesday, October 12th @ 5PM -Register Here